Dying to be like auntie - 2019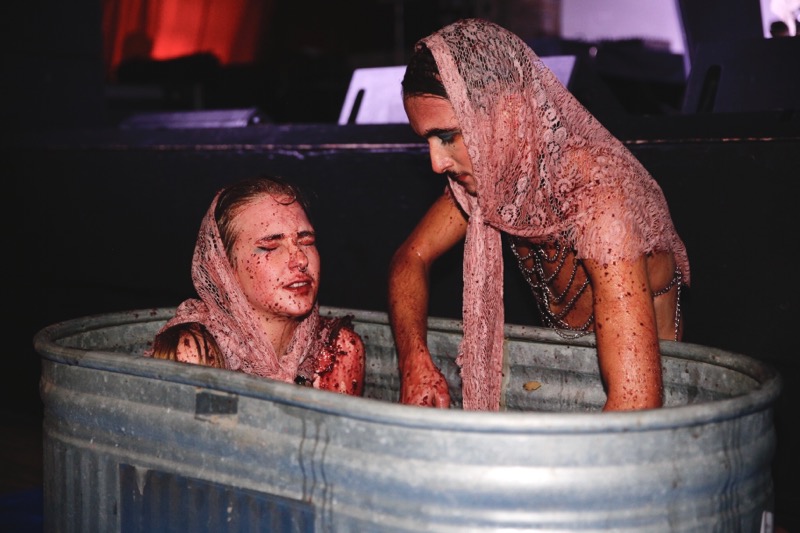 'Dying to be like auntie' (2019) is a performance circling around envisioning new ceremonies. Eyre and Bunnell begin the performance off stage, letting an audio recording of Bunnell trying to learn a Doukhobor hymn play over the PA. Their voice fades as it's replaced with a recording of her great grandparents singing the same song. Eyre and Bunnell then enter together and sit at a table, speaking gently under the audio, as they begin to touch up each others makeup. They then put on their lace head scarves (commonly worn by Doukhobors in ceremony) and move towards a metal stock tub filled with beet juice. They undress, revealing leather gear under their traditional dresses. Eyre and Bunnell then take turns bathing in the beet juice. They both exit the tub and stand beside the tub until the audio finishes playing.

The 20-minute audio uses the audio clips of both Eyre and Bunnell's ancestors, including singing and describing their experiences in the Sons of Freedom. Other voices filter in as well, describing ideas surrounding 'good Canadians', the experience of being assimilated, and vital concepts of Doukhobor belief. A beat plays underneath the voice clips, the two clap one foot stomp of "We Will Rock You" by Queen, a reference to queer culture and icons and their associated memorial and ceremony.Dying to be like auntie forms new rituals to imagine as queer Doukhobors, envisioning new methods of care and embodied remembering. This becomes the establishment of ceremony specific to Eyre and Bunnell's relationships to their queer Doukhoborness, while referencing queer culture through a harnessing of tangible queer signifiers including drag, gender performance, kink culture and resistive methods utilized by queer bodies. The work simultaneously acts as memorial, documentation, narrative, ritual and ceremony. These methods of queering act as vehicles of (queer) resistance and assists in enabling a space for two outcast identities to exist within their inaccessibility and assimilation. 'Dying to be like auntie' establishes an indirect narrative as Eyre and Bunnell translate themselves into an emotionally informed representation of the queer Doukhobor.