Alexa Bunnell is an emerging artist, writer, curator and fermenter based in Mohkinstsís (Calgary, AB) on Treaty 7 Territory. Their artistic work takes into account queer considerations of fermentation, ecologies and mycology through restorative futures and hauntings.

Their artistic work has recently been presented at EMMEDIA Gallery and Production Society, Marion Nicoll Gallery, White Rabbit Festival, The Bows and The New Gallery. Their writing has appeared in LUMA Quarterly, CMagazine, Galleries West and Canadian Art. Alexa has received numerous scholarships and grants including from Canada Council of the Arts. In 2020, they were awarded runner up for the Canadian Art Writing Prize.

They currently work at The New Gallery as the Communications and Outreach Coordinator.


---
recent news:
---
Interview with Aaron Obedkoff, published with OBOD Magazine on June 24, 2021. Read here.

Awarded runner-up for the Canadian Art Writing Prize in 2020. Read the announcement here.

Vaster and More Slow, published by Canadian Art on May 20, 2020. Read here.



drained - 2019

drained (2019) is an exploration into gendered anxieties, dysphoria and inner crises manifesting as words written in hair, fired onto tiles. The hair, sourced from an undercut, is dipped in a cobalt blue glaze and fired. In the firing process, the hair is burnt away, leaving a cast or a burnout of its form on the tile. Ghostly traces of individual hairs dragged across the tiles read; "washed whore, lived girl crisis, while reverbs drip into a non body."

The tiles are the only witness to these anxieties, offering up traces of the hair left behind from the artist. Removed from the body, the hair becomes a haunting itself, a trace, a ghost.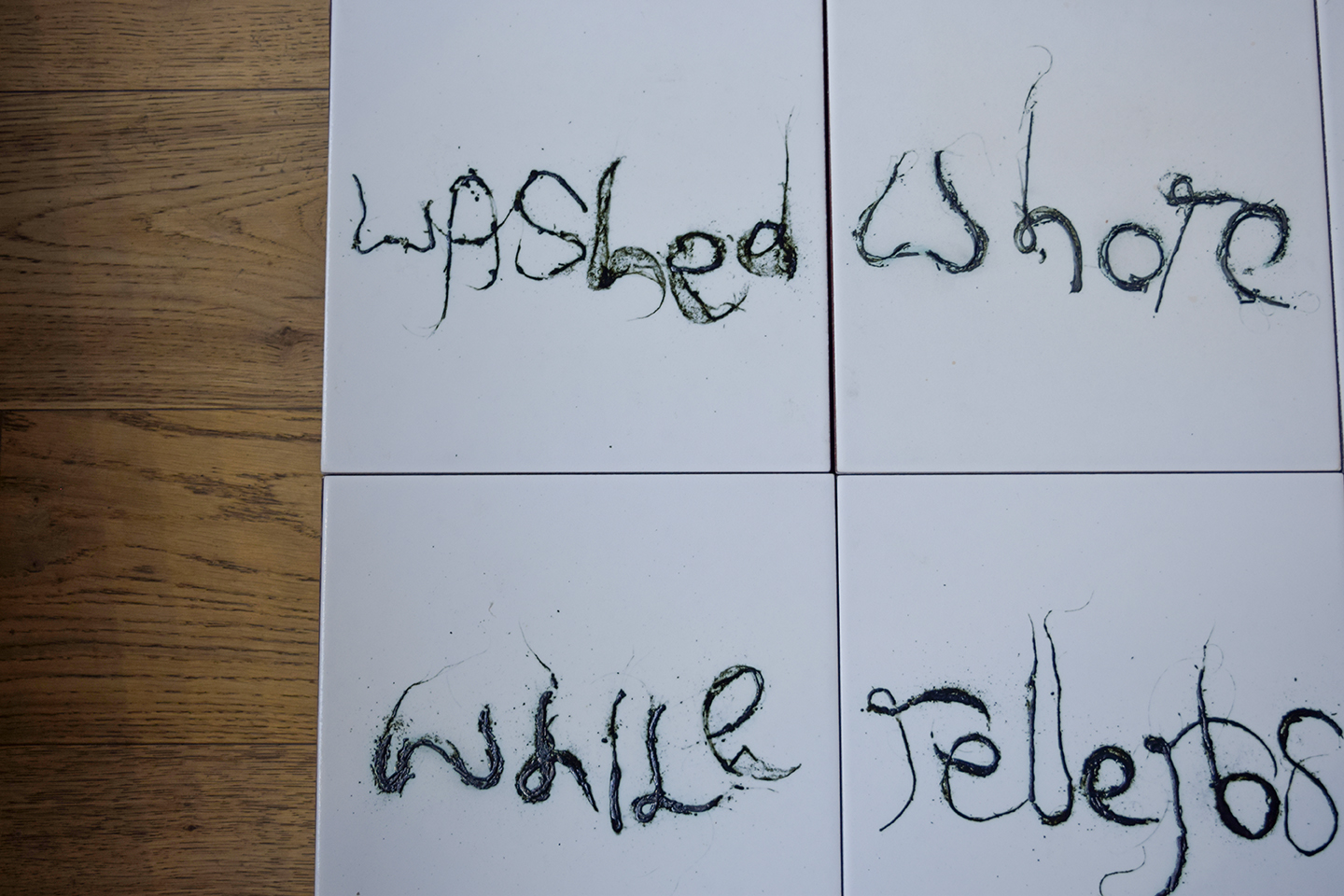 Fishing nets - 2019



Fishing nets was created while attending the White Rabbit Residency in Upper Economy, Nova Scotia. Toying with ideas of extraction, attraction, desire and disdain, this first fishnet became a slippery, campy not-quite-barrier barrier. In turning this fishnet into one that doesn't blend with it's sourroundings, it becomes a method of highlighting problematic extractive methods, instead providing fish with the opportunity to cruise around this net.



I wanted you to see - 2019
Image courtesey of Eli Gordon. 2019




I lashed a mirror to a branch, with a handle made of hair that same colour as my own dyed hair. Knelt beside a creek in a frilly, lacey dress, I cut an undercut into my long, blonde hair. The act, witnessed by the forest and the creek, becomes more expansive and less easily understood in traditional designations of queerness by the forest. It instead becomes something more queer and affective.

I wanted you to see is an exploration of queer coding and ancestry outside of mainstream designations of queerness, instead trying to locate queer identity within ecology to envision restorative futures, where generative, meaningful bonds are driven by non-extractive and queer desire.


Dying to be like auntie - 2019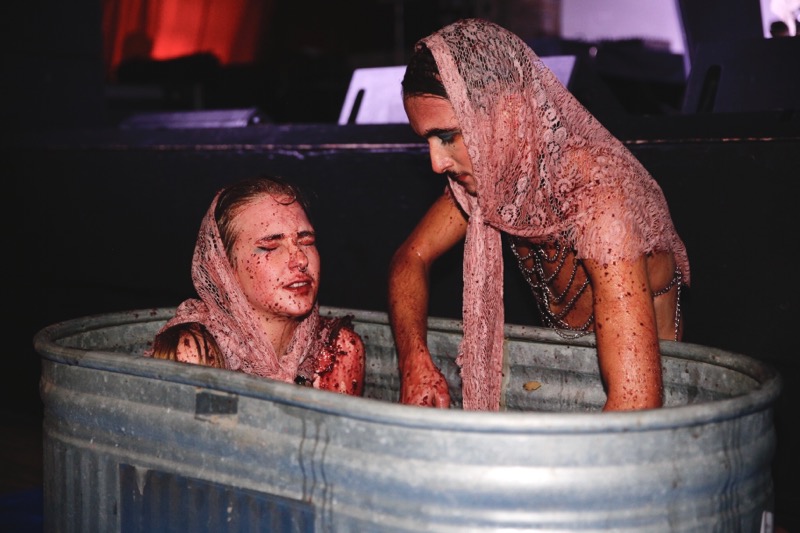 'Dying to be like auntie' (2019) is a performance circling around envisioning new ceremonies. Eyre and Bunnell begin the performance off stage, letting an audio recording of Bunnell trying to learn a Doukhobor hymn play over the PA. Their voice fades as it's replaced with a recording of her great grandparents singing the same song. Eyre and Bunnell then enter together and sit at a table, speaking gently under the audio, as they begin to touch up each others makeup. They then put on their lace head scarves (commonly worn by Doukhobors in ceremony) and move towards a metal stock tub filled with beet juice. They undress, revealing leather gear under their traditional dresses. Eyre and Bunnell then take turns bathing in the beet juice. They both exit the tub and stand beside the tub until the audio finishes playing.

The 20-minute audio uses the audio clips of both Eyre and Bunnell's ancestors, including singing and describing their experiences in the Sons of Freedom. Other voices filter in as well, describing ideas surrounding 'good Canadians', the experience of being assimilated, and vital concepts of Doukhobor belief. A beat plays underneath the voice clips, the two clap one foot stomp of "We Will Rock You" by Queen, a reference to queer culture and icons and their associated memorial and ceremony.Dying to be like auntie forms new rituals to imagine as queer Doukhobors, envisioning new methods of care and embodied remembering. This becomes the establishment of ceremony specific to Eyre and Bunnell's relationships to their queer Doukhoborness, while referencing queer culture through a harnessing of tangible queer signifiers including drag, gender performance, kink culture and resistive methods utilized by queer bodies. The work simultaneously acts as memorial, documentation, narrative, ritual and ceremony. These methods of queering act as vehicles of (queer) resistance and assists in enabling a space for two outcast identities to exist within their inaccessibility and assimilation. 'Dying to be like auntie' establishes an indirect narrative as Eyre and Bunnell translate themselves into an emotionally informed representation of the queer Doukhobor.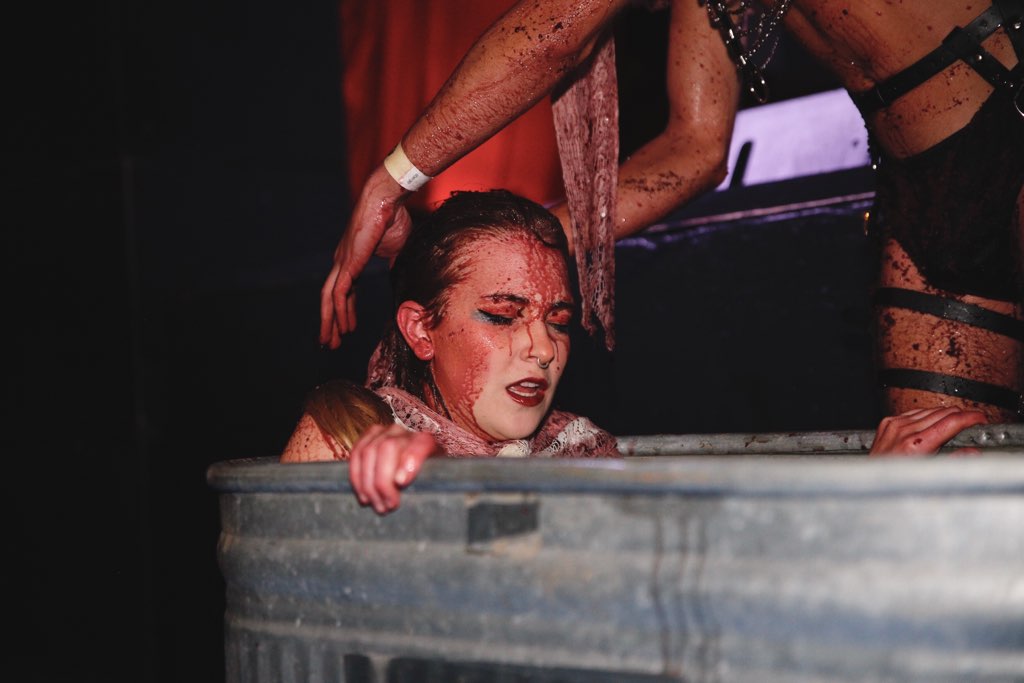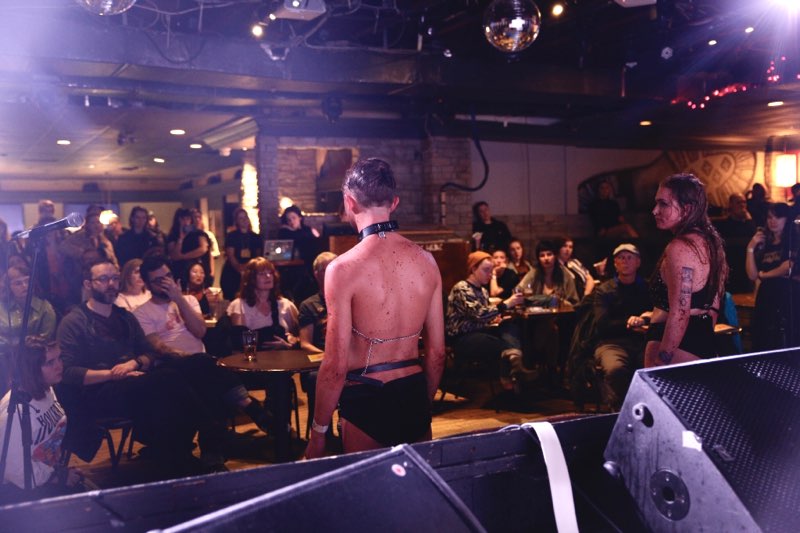 Mothers Monologue - 2018
A mother's monologue features the artist in character, embodying the cis-gendered female body reciting a monologue typically reserved for pregnant women speaking to their unborn child, in anticipation of their child's arrival. The character stands in a projection of space, with found footage of NASA telescopes and satellites playing on her body. She simultaneously becomes the imagery, as well as disrupts it; her shadows leaving behind a black hole. She wears a headset microphone and a flowy dress (passed down to the artist from her paternal grandmother). The character begins reciting her monologue, dreaming of the unarrived child (or being) anticipated in the within video projection.